Monday
Another sea day and the start of room service breakfast. The girls were not moving too fast and with breakfast the Disney channel it was a challenge to get the girls out the door. I had made appointments for the girls to get their hair braided at 11:30 so we made it out just before that.
That took about 45 minutes and the plan was to make it to the theater on deck 5 to watch Bolt but by the time we got there the theater was full, so we headed to Beat Street to sit in the port hole windows and read our books., and do some dancing.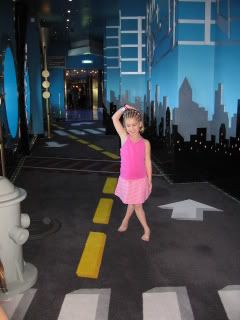 At 2:00 headed to the Promenade Lounge for the Mickey 200. We ran into some technical difficulties and our potato/carrot car ended up racing with 3 wheels so suffice to say that we did not make it past the first heat. Boy there are some creative people and the cars were pretty impressive.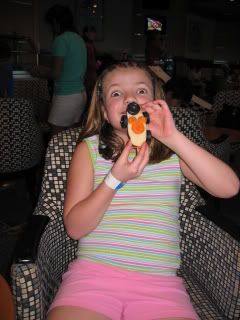 The moment of truth came would S go to the kids club. S has no desire to go to the clubs, but L wanted some alone time with me. The plan was for her to go for the Aloha Laua party, and I was concerned that she would not go, I asked if she wanted us to stay for awhile when we got there but she took off so fast that I did not get an answer. I guess Lilo and Stich came to the party and it was a hit.
L and I headed up to the arcade, it is a pretty pathetic arcade so we did not spend too long there, but L was happy as she got to do something that S was not doing. We then went and played some shuffle board.
We went to pick up S from the club and L decided that she wanted to go to the dinner with the Kids club so we dropped her off and S and I headed for dinner at Parrot Cay. After we tried to pick up L to go to see Twiced Charmed, but she wanted to stay in the clubs.
S and I headed to the show. Twiced Charm, the story of what if the slipper does not fit Cinderella. Another great show, and we also saw a few old friends.
We picked up L from the kids club and she was not happy to see us, as they were about to start the campfire party but it was late and they were tired.