Wed St Thomas.
Room service again but I had not booked an early morning excursion so we did not have to rush today. We pretty much had the ship to ourselves. We headed up to the pool and enjoyed the view and the girls swam .
St Thomas looks like a lush tropical island and it reminds me of Hawaii.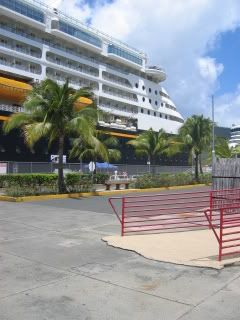 We met at 11:40 for our island tour and visit to Coral World. Everything in St Thomas is on the side of a mountain and the views are amazing.
We headed to the Mountain top in an open air van where you can see to Puerto Rico and all the island . I don't think I would want to be driving on all the switch back roads, but it was something to see, and I wish more of my pictures had turned out.
We got to Coral World at 1:30 where we had an hour and an half to tour the small aquarium. A sea lion show was just about to start so we headed there. They brought out 2 of them and put on quite a show, including some singing and painting.
We just missed they sting ray feeding and I can see that a Sting Ray adventure is not in the future for S, she did not even want to get close to them.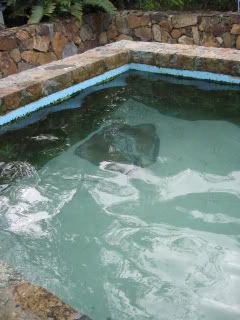 There is a section where you can go in and see tropical birds. S did not want anything to do with that either but luckily it was small and I was able to see L the whole time so she was able to go in by herself. There was 1 other family in there that had some nectar to attract the birds and asked L to help them so she was thrilled to have the birds land on her.
We took a quick tour through some of the under water areas and then it was time to head back.
We got back to the dock about 3:30 and the ship was leaving at 4:00 so there was no time to do anymore exploring. St Thomas looks like an island that would be wonderful to visit for an extended vacation, and I hear employee discounts at Fisherman's Reef are always available.
Dinner tonight was in Animator's Palete and the restaurant was in changing colours mode, but I still have not figured out what is supposed to be so impressive about this and how they could justify the $4 million cost of this restaurant. We skipped desert tonight and headed to the theater to catch High School Musical 3, this trip we had a hard time fitting in the movies, and only caught the last half of the movie tonight.
Mike Super was the magician performing tonight and his show was a hit with the girls. I think L has dreams on being a magician one day and she sat in awe for the whole show.
Tonight in the Kids Club it was the High School Musical Talent show and L headed there as S and I went on a hunt for more pictures and characters.
Another late night, but the girls are having so much fun.