Tuesday. St Martin
Room Service was scheduled for 9:00 and if they had not called prior to delivering breakfast the girls would have slept for hours, but we had to meet at 10:00 for our excursion. Today we were heading out on the SeaWorld Explorer.
St Martin is a not a lush tropical island but the ocean is a beautiful turquoise colour. It was about a 20 minute drive to the French side of the island where we were to board the semi submarine. We had a bit of o wait so L headed to the beach and played in the ocean and luckily she did not get all wet. The beach we were at was small but lovely sand and the water was warm. It would have been nice to go for a swim but no time.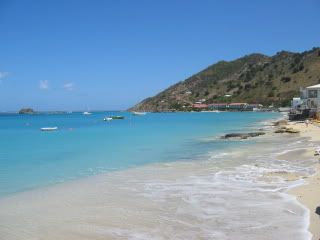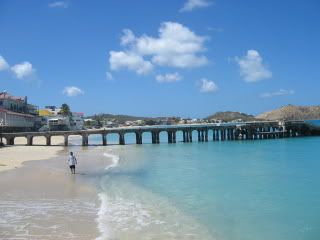 The semi submarine is not what I expected. We boarded what I though was a tender boat, but once we got out a fair distance they opened a hatch and sent us down to this narrow hatch that had windows on both sides and seats that fold down with a person on each side. Up on deck they send down a diver with food to attract the fish. The girls were amazed at what it looks like under the ocean. We got to see an amazing variety of fish, sharks, turtles and coral. We were down for 45 minutes and then it was time to head back up to the surface.
After the bus ride back to the port we went back on board for lunch.
I was hoping to head back into town after lunch but L wanted to go to the club for Lava Flow, and S wanted to go to the empty pool so that is what we did. It was a beautiful afternoon on top of the ship and we even got to catch Stitch up on Deck 10 all by himself getting into mischief teasing the passengers on the RCCL Liberty of the Seas docked beside us.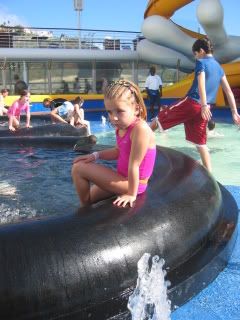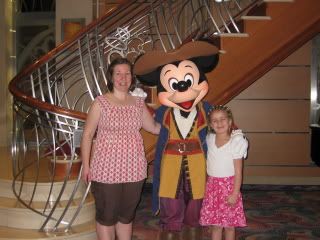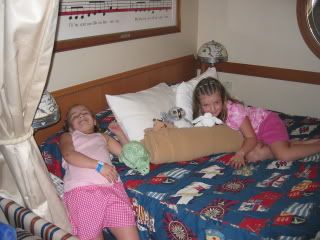 Dinner tonight was in Lumiers and our table mates and the table beside us did not show up so we had a nice, quiet and quick dinner.
Tonight was pirate night, but both girls were too tired to stay up late so we had an early night and the girls were asleep by 9:00.